12 Best Call Recording Apps for iPhone
We usually have important conversions and deals over calls, where we need to record every bit of communication to keep it as evidence. By default, call recording isn't allowed on iPhones.
However, you may need to record calls for important reasons like documenting something or maintaining a business record.
Is it possible to record a call on an iPhone using standard phone functions?
No, due to customer privacy concerns, Apple doesn't allow call recording using the built-in microphone.
In order to record calls on an iPhone, you either need third-party applications having separate call setups, i.e., Google Voice, or you can rely on an external device to make this possible.
Let's discuss multiple techniques to record phone calls on an iPhone without any hassle;
1. How to Record a Phone Call on an Apple Watch / Second iPhone / Mac Speakerphone
Generally, you need to rely on an external source for recording calls. Some people end up using an Apple Watch or a second iPhone to record over the Mac Speakerphone.
Apple Watch
Open the voice memos app on the Apple Watch and start recording. Before that, switch your call to speakerphone to enhance clarity and voice volume. Simply follow these steps to kickstart recording:
Change voice calls to the phone speaker.

Start the Voice Memos application on your device

Hit the Record Button

Click the Record Button to stop the call recording.
Pros
• Voice memos can be played directly from the Watch.
• Automatic syncing to iPhone, iPad, Mac, or any other iOS device where you're logged in with a similar Apple ID.
Cons
• The Apple Watch is expensive, and not everyone can afford it.
Second iPhone
This is a kind of simple hack to record phone conversations without any specific tool. Simply put your call on speaker mode after receiving it. This way, use a voice recording app on another iPhone to record conversations.
Pros
• Record calls without using any tool
Cons
• Not a reliable solution for clear call recording
Mac Speakerphone
It is super simple to record calls using a Mac Speakerphone. Here is how you can do it:
Open "QuickTime Player," navigate to the "File" menu, and select "New Audio Recording."

Place the phone and Mac near each other.

Hit the "mute" button to mute the audio output on Mac.

Make a call and place it on speaker phone mode

Tap the "Record" button when ready.

Tap the "Stop Recording" option in the QuickTime player

Save the recorded file
Pros
• A simple solution that can be used for any phone
• Easily records Skype and Whatsapp calls
Cons
• The audio quality is not good
Using a Third-Party Headset
You can record any call by connecting your phone with a third-party headset such as a U2 adapter, PhotoFast Call Recorder, or Sprecord A2. PhotoFast Call Recorder supports M4A format to save the recorded track to your local storage.
Pros
• You do not need to install any application on your device.
Cons
• The phone can't be charged as long as the adapter is connected.
• Old-fashioned and annoying
Using Telegram - bot
Recording calls via a special PhoneRecord bot is an easy option for Telegram users. It directly records and sends the recorded audio to the chat.
Pros
• No need to download an application
• Simple and easy to use
Cons
• The recorded copy is not saved for future use.
• You have to pay to use this bot feature
Using Apps to Record Calls
The best way to record all types of calls is by using mobile applications. Once installed, the app will satisfy all your call recording needs for your iPhone. Simply get the call recording app download on your iPhone to get started!
This article reviews the 12 best call recording apps for iPhone for your reference.
2. Top 12 Call Recording Apps
When it comes to recording calls on iPhone, mobile apps are the most convenient option you can use. However, it can be confusing for you to choose the right recording app for your needs.
Let's explore our list of iPhone's top 12 call recording apps.
1. REKK Call Recorder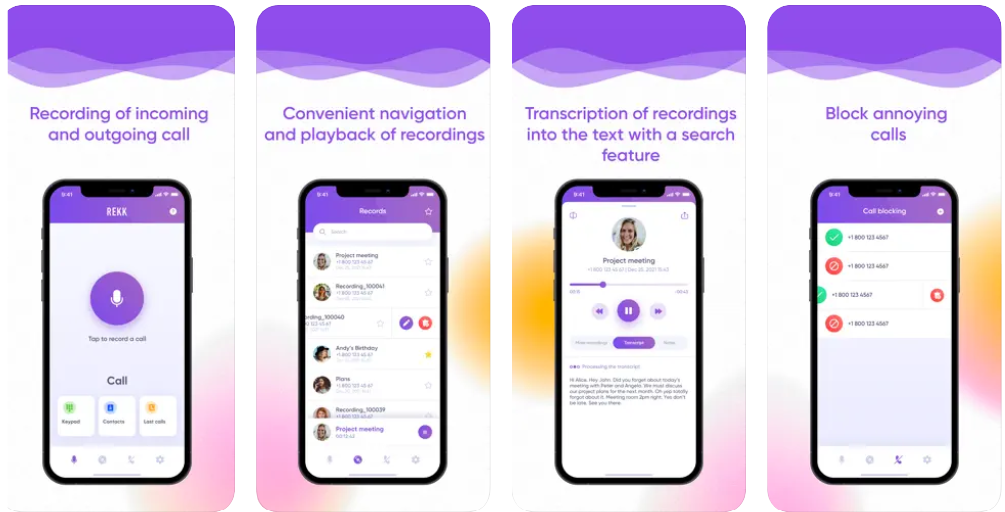 Record your important calls with REKK Call Recorder. It is undoubtedly the best call recording app iPhone. The in-built interface of REKK makes it simple to use and convert your calls to text. It creates a conference-like setup between you, your caller, and the service provider and keeps a record of your conversations. The app is accessible on the App Store in many countries.
Features
• Records unlimited calls regardless of their number and span.
• Enables you to share the recording through a messenger.
• Via web-based service, it is compatible with calls from devices running any of these operating systems: Android, iOS, and macOS.
Tariffs
It's free to download but contains in-app purchases. In-app purchases cost $3.99/week.
Rating
4.56 out of 5
User reviews
Users reviewed it as a great tool for recording important conversations, including business and personal calls. All recordings appear in the app soon after the call.
Download link
https://apps.apple.com/us/app/rekk-call-recorder/id1475739728
2. Rev Call Recorder App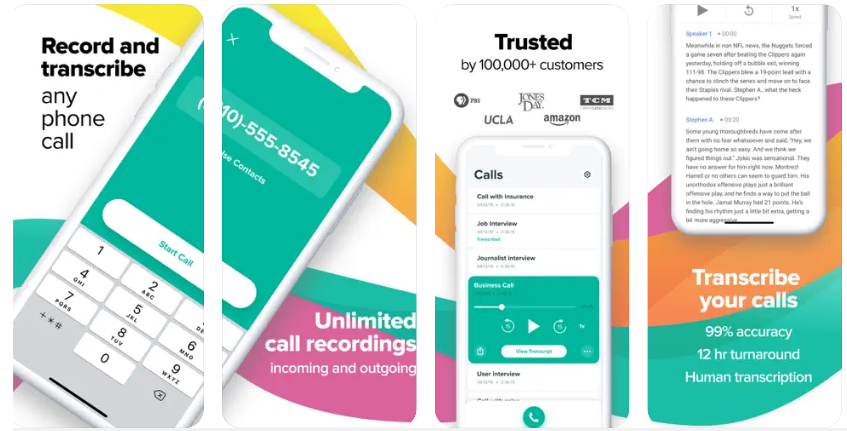 Tape unlimited calls with one of the most in-demand apps, the Rev Call Recorder, without concerning the duration. You need to go through a single step; the app automatically performs all the next steps. Moreover, you can save all the recordings for future reference. Rev Call Recorder is compatible with the iOS version 10.0 or later.
Features
• Record unlimited calls with a single step.
• Good quality recordings.
• Share your recordings among different apps and platforms.
Tariffs
The app is free to download but involves in-app purchases. In-app features can be unlocked with credits. The cost of one credit is $1.99.
Rating
4.4 out of 5
User reviews
Users review this app as a good-quality call recorder. It is preferred due to its simple interface, and its remarkable feature is that it records calls free of cost.
3. TapeACal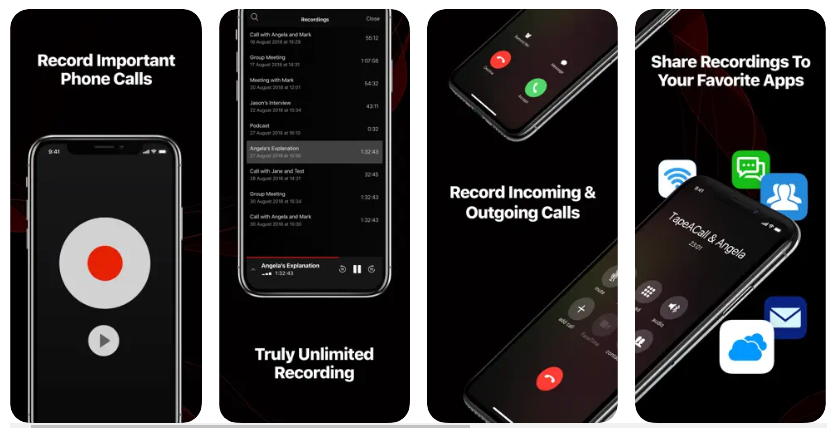 Another amazing call recording app for iPhone on the list is the TapeACall app. Record every detail of your conversation or conference with the app's intuitive recorder. You can also save your recording directly from the app on your iPhone. You may share recordings through various apps like email, etc. The TapeACall recorder is accessible for iOS 11.2 and the next versions.
Features
• Records all types of calls
• Share and export recordings via email
• Record incoming and outgoing calls
• Record meetings, conference calls, study sessions
• Transfer and email recordings simultaneously
• Can play recordings easily in the background
Tariffs
It comes with a 7-day free trial version. Afterwards, you need to pay $3.99/month to continue using their services.
User reviews
Users rate it 4.5 out of 5. Users regard it as the best app for recording business meetings and conferences. Moreover, it is recommendable because it saves tracks directly.
4. RecMyCalls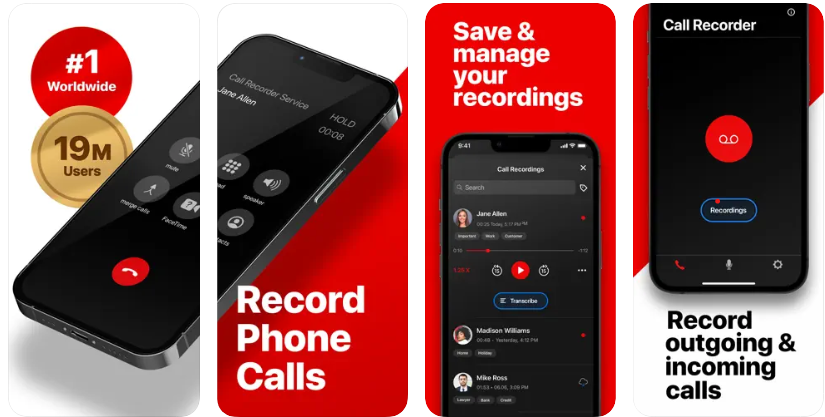 Record your calls on your iPhone with the RecMyCalls app. It can record high-quality calls, making them accessible as soon as the call ends. Moreover, you can record the best voice messages and save them on your phone. The call recorder is suitable for iOS version 13.0 or the next version.
Features
• Records call with ease
• Share and transport recordings
• Name your recordings according to your will
• Record voice notes and save them for the future
Tariffs
Free trial for the first time.
$9.99 per week subscription for next time.
User reviews
Its rating is 4.3 out of 5. Users regard the RecMyCalls app as excellent for recording calls and voice messages in good quality.
5. Call Recorder Lite for iPhone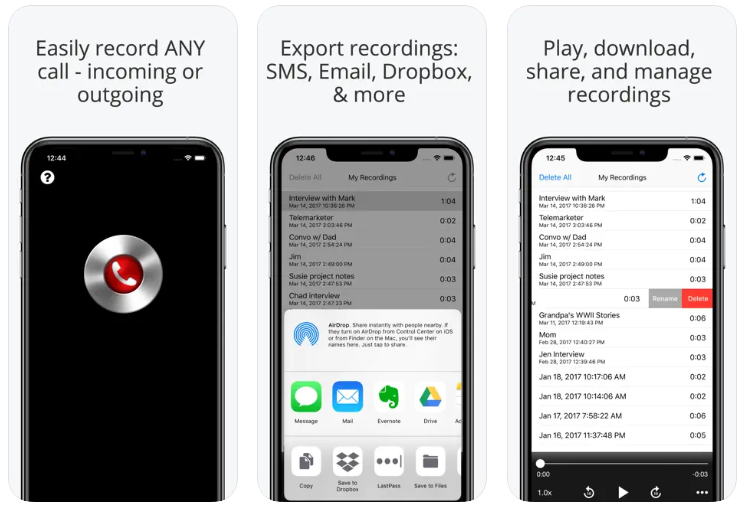 Record all incoming & outgoing calls on your iPhone with a simple yet useful Call Recorder Lite app. The app records the complete length of your incoming and outgoing calls in the free version; However, after 60 minutes, you need to get a paid upgrade. Also, you need to enable 3-way calling to record calls using Call Recorder Lite.
Features
• Record all types of incoming or outgoing calls on your iPhone
• Upload and share your recordings through Email, Facebook, iMessage, etc
• Adjust playback speed and skip it ahead or backwards
Tariffs
This call recorder app is free to download and use with certain limitations. You can record unlimited calls but can only listen first 60 seconds of the recording. To access the complete recording, you need to upgrade to the premium version for $9.99. The premium version provides you credits worth 300 minutes of calls.
User reviews
Users rate it 4.3 out of 5 on the App Store. Users view it as a favorable recorder because they can easily share data and control the playback speed of their records.
6. Phone Call Recorder - Recording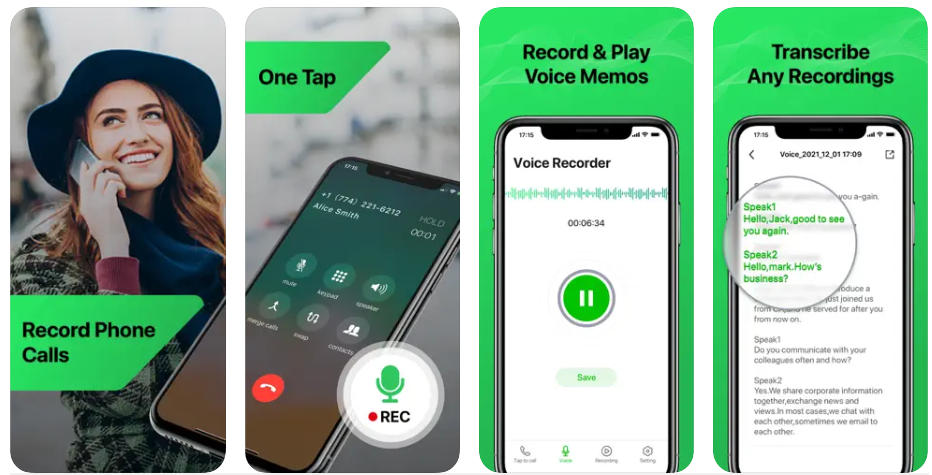 Here comes one of the simplest call recorders, the Phone Call Recorder-Recording. You can easily record all types of calls and manage your recordings. Additionally, you can play and upload these audiotapes on cloud storage. The Phone Call Recorder-Recording enables you to share data on social media, keeping it safe and sound. Although the app is free to use, it has multiple in-app purchases. This app is useful for iOS 9.0 or the next iPhone versions.
Features
• Record your calls with a single click.
• Arrange your files in various categories and sort them easily.
• Upload your recordings online and save them forever.
Tariffs
This call recording app is completely free to download, but it also contains in-app purchases. Unlocking all features requires a subscription fee costing $5.99/week.
User reviews
This application's rating on the App Store is 3.5 out of 5. Users find it reliable because it enables them to share voice tracks, ensuring their safety.
7. Automatic Call Recorder
Unlike other call recording apps, this call recorder is handy for pre-scheduled recordings. First, you need to activate it, then record and save your calls with simple touch controls. Automatic Call Recorder is a useful application for sharing and organizing voice records on iPhone.
Features
• Record, save, and edit your voice tracks according to your wish.
• Organize recordings into various categories.
• Sync your recordings on cloud storage.
• Adaptable to the iOS version 13.2 or later.
Tariffs
Free trial with a $6.99 weekly subscription
User reviews
Users rate it 4.4 out of 5 on the App Store. Customers review it as a favorable app because it allows them to edit their tracks according to their will.
8. Call Recorder iCall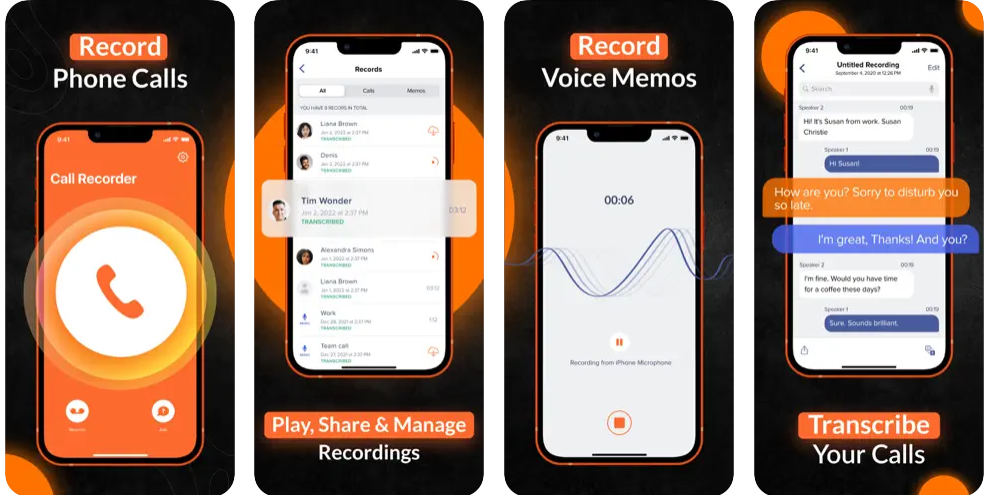 Call Recorder iCall app lets you record business meetings, conferences, and study sessions on your phone. It all happens with a single tap, and the app automatically records and saves your call for the future. You can easily share your records inside the app.
Features
• Records all sorts of calls with a single tap.
• Play and save your tracks easily.
• Suitable for iOS 12.0 version or next ones.
Tariffs
Free trial with a weekly subscription of $5.99
User reviews
Its rating is 4.3 out of 5 on the App Store. Users find it suitable for recording business meetings and conferences.
9. Recostar Pro - call Recording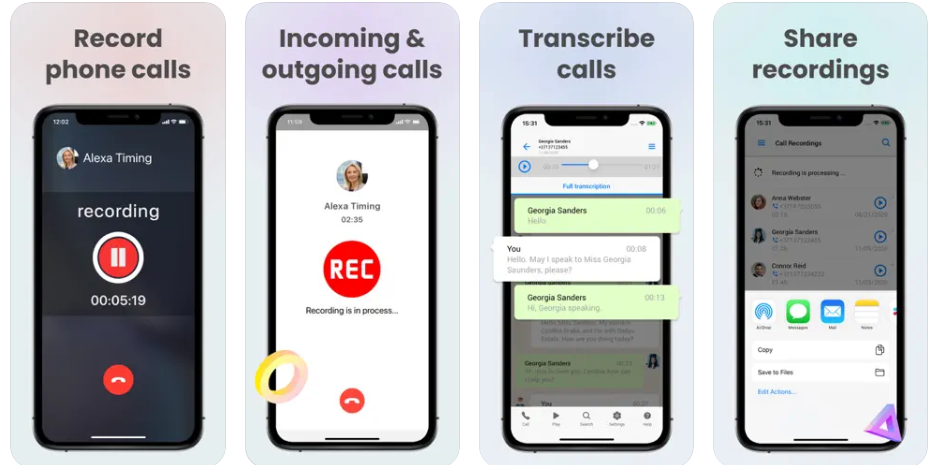 Next in the queue is the Recostar pro call recorder for good quality recordings in the UK and USA. Although it records calls, it has some additional features that make it recommendable. One such special feature is that it converts your conversations into text. Moreover, the call recorder can work offline and upload the tracks to cloud storage.
Features
• Record, store, and share voice tracks on cloud devices.
• Transcribe calls into the text.
• Works offline
• Compatible with iOS 12.1 version or later
Tariffs
A weekly service subscription costs you $4.99.
User reviews
Users review it 4.2 out of 5 on the App Store. Customers review it as an excellent app that records calls and transcribes them.
10. Call Recorder - IntCall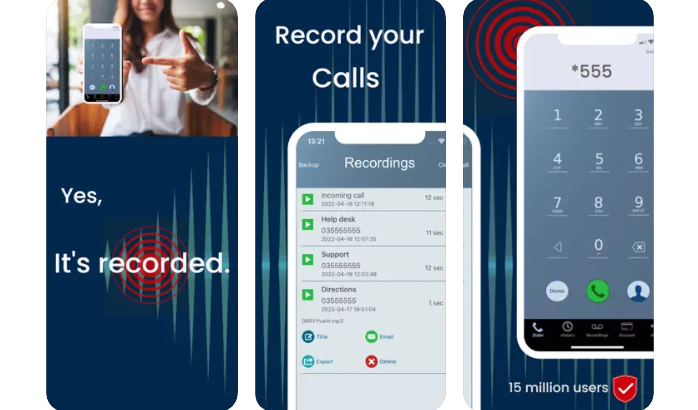 One of the most practical apps to make and save phone calls is Call Recorder – IntCall. You can have a complete record of your conversations in this app. Similarly, you can play and export your records using this recorder.
Features
• Record all calls either within the country or outside it.
• Save, play and share audiotapes.
• Adaptable to iOS version 12.0 or later.
Tariffs
The application is free to download but comes with in-app purchases. It works on a credit system, and rates vary from country to country. Normally, it costs 60 cents/minute.
User reviews
Its user rating on the App Store is 4.2 out of 5. Users mark it as a suitable option for recording and sharing voice calls.
11. Call Recorder ACR Plus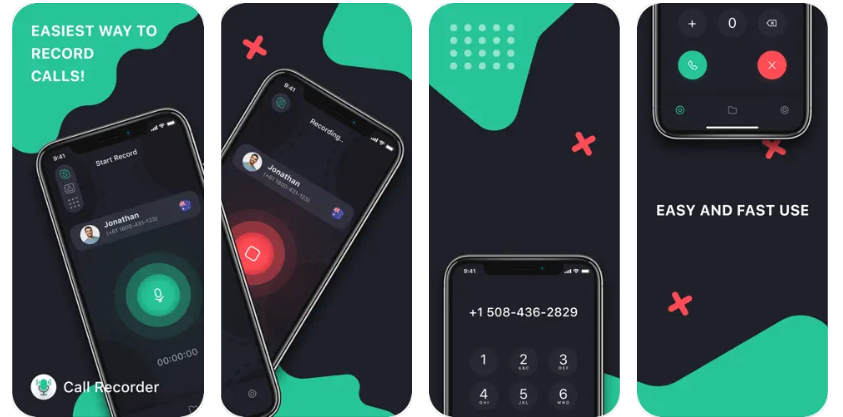 Record and save unlimited calls with this best call recording app iPhone, the Call Recorder ACR Plus. Moreover, you can make and record phone calls within the app. You can also upload recordings on cloud devices. Record your Skype calls with this good-quality recorder.
Features
• Record and save multiple incoming and outgoing phone calls.
• Make phone calls within the app and on Skype.
• Get many help numbers for three-party calling.
• Adaptable with iOS 13.0 version or later.
Tariffs
Free trial with a weekly subscription of $6.99.
User reviews
Users rate it 4.2 out of 5. They view it as useful for recording and saving Skype calls.
12. CallRec Lite - Int Call
Like other call recording apps, CallRec Lite can record and save calls. It can upload the recorded files to Cloud storage or Google Drive. The free version allows unlimited call recordings, but you can't listen to your audio for more than 60 seconds. Purchase the premium version to access the whole call.
Features
• Works on an exclusive 3-way merge recording system
• Offers multiple sharing options like email and social apps
Tariffs
One-time fee of $8.99 for unlimited recordings.
User reviews
Its App Store rating is 4.3 out of 5. Users regard it as a good call recorder that enables them to share records on various social media platforms.
3. How legal is it to Record Telephone Conversations?
Here an important question is whether it is legal to record phone calls. You may record a call for personal purposes as long as you are the only participant. However, recording calls without the other party's consent is unethical.
Let's see under what conditions the call recording is legal.
• To protect a person's intentions in dealings with the organization
• Recording evidence for business transactions in case of dispute
• To enhance customer services
How to legally Record Customer Calls?
Under certain conditions, it's legal to record customer calls. Here is how you can legally record customer calls without violating the rules.
1. Notifying employees about the recording of their conversations
If companies need to record calls for any valid reason, it's acceptable. However, it is necessary to notify employees about the recording. In addition, both the customer and employee must be notified that the recording is being done.
2. A ban on the dissemination of information received during calls
There is a significant ban on spreading information or data received during phone calls in developed countries. You can only record calls as long as there's informed consent by the required parties.
3. Informing customers about call recording
The best practice is to inform your customers prior to the recording. It'll be helpful to avoid confusion about the rules of one-party and two-party consent.
4. The right to object to the entry
Although you are recording a call for valid purposes, the customer must have the right to object to the entry. You can't start recording without informing or taking consent from the customer.
4. Call Recording Laws in Different Countries
It's important to know and understand the call recording laws of the country you operate in. A general rule is to obtain permission from the callers before recording a call, even if there is no law to obligate you.
Let's have a look at what the call recording laws in different countries say.
USA
Businesses in the USA have to follow both Federal and State laws. Under Federal jurisdiction, it is a requirement to notify at least one party before the recording. However, some states require the consent of at least two or all concerned parties.
Canada
Under the PIPEDA, at least one individual consents to the phone recording. Organizations must follow these rules:
• Inform callers about the recording.
• Declare the recording's purpose.
• Ask for the consent before.
There must be alternative solutions if the caller doesn't permit the recording.
The United Kingdom
A business is authorized to record telephone conversations with customers if conditions are met.
However, consent is necessary if you want to share or make the information public.
It is not necessary to notify the customers if the feedback is intended for internal use.
Spain
No law states that you must inform the other party of recording the conversation. As a general rule, the comments can be shared with a third party or published somewhere.
Italy
Article 4 of the Statue of Employees and Article 114 of the Privacy Code prohibit remote monitoring. Recently, it was permitted that businesses could record their customer interactions.
Brazil
Law 9.296/96 regulates the interception of communications. It allows for recording telephone conversations to instruct investigations of crimes.
Poland
The Polish Penal Code makes the call recording legal for a private person only when the recording person is one of the participants. You don't need any consent from the other side.
France
According to French jurisdictions, businesses can monitor incoming and outgoing calls by complying with a few rules. Periodic recording sessions are permitted only for employee training and performance review. A company can keep the recordings for up to six months period.