Must-have Features of a Call Recording App
Businesses and organizations record important calls with their clients and customers to maintain a record of sales. Recording calls is a convenient way to save conversations for evidence. You might need it for documentation or a business record to protect yourself from an uncertain situation in the future. As individuals, we also use call recording applications to track our conversations later on. Whatever the purpose, you need a versatile recording app to complete the task perfectly.
Various call-recording apps are available for iPhone and Android users. However, choosing a professional call recorder can ease your task with additional advantages.
This article is a detailed guide on what features you should look for while choosing a suitable call recorder app. Let's delve into it;
Features of a Professional Call Recording App
You need to look for the following characteristics while selecting a professional call recorder.
1. Quick Registration
You might have experienced a lengthy registration procedure with some mobile apps. It can be annoying and wastes your valuable time. The same is the problem with call recording applications. You should choose a call recorder with easy registration and simple steps to get started quickly.
2. Unlimited Recording Duration
People typically use free methods to record calls. However, they offer only a limited duration of recording and then stop automatically. Even some paid applications have limitations regarding call duration. Therefore, you need a call recording app with no such limitations to enjoy a hassle-free seamless experience. For instance, the REKK call recorder allows unlimited call recording without interruption.
3. Using Cloud Storage
Lengthy recording files can be heavy on your device, and it may run out of storage. Also, you may lose your valuable files if the device is misplaced or stolen. An app with a cloud storage feature will allow easy syncing of call recording. You can easily access your recorded files from any device, anywhere.
4. High-Quality Call Recording
Voice quality is the main concern during call recording. Otherwise, you might not understand or be mistaken about what is said. Installing a professional call recordings app like Tape A Call or REKK Call Recorder can help you with high-quality recordings.
5. Simple and Visually Pleasing Interface
A complex user interface may waste your time, making it difficult to locate various options and files. Users usually prefer apps with a simple and friendly interface for easy use. It will not only help you while recording but also in finding the desired records.
6. Ability to Edit Records and Sort them
You might need to sort your records or edit them after recording. Customized records are convenient to use for the desired purpose. Therefore, an app's ability to edit text-to-speech conversions and arrange records counts a lot.
7. The Presence of Clear instructions for using Application
A good call recorder provides you with all the essential instructions to use the app. Clear instructions and steps make it easy to navigate through the app. Therefore, you can easily record like a pro, even if you're a novice.
8. No Annoying Ads
Like other mobile apps, online ads can be irritating while using a call recorder app. The appearance of an ad during call recording is really inconvenient. You must find a recorder app with zero ads to avoid interruptions.
Examples of Applications
Various call recording applications are available on the Play Store and the App Store. Each application has its own specialty and unique features. You can choose any of them according to your recording requirements.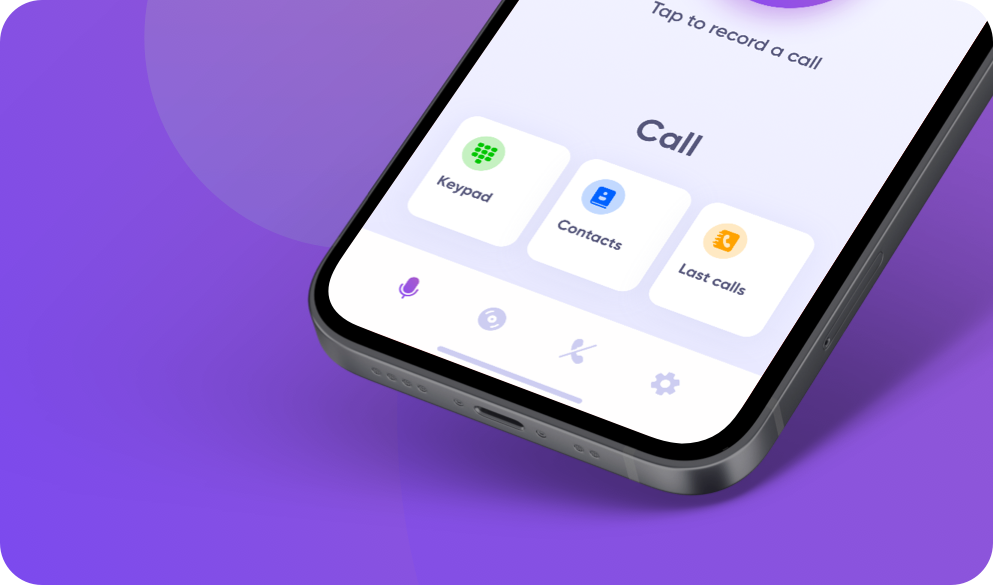 Rekk Call Recorder is an app for recording good-quality calls. It records your voice calls and converts them to text through speech recognition. You can record all inbound and outbound calls on iPhone and Android. You can save your records, rename them, make notes with records, and share them on chat apps.
Rekk Call Recorder app comes up with a user-friendly interface that helps in quick and efficient call recording. You can easily navigate and playback your records. Moreover, Rekk Call Recorder provides exceptional customer support. On top of that, cloud support functionality makes all recordings accessible from any device you want.
Download Link
2. ACR My Calls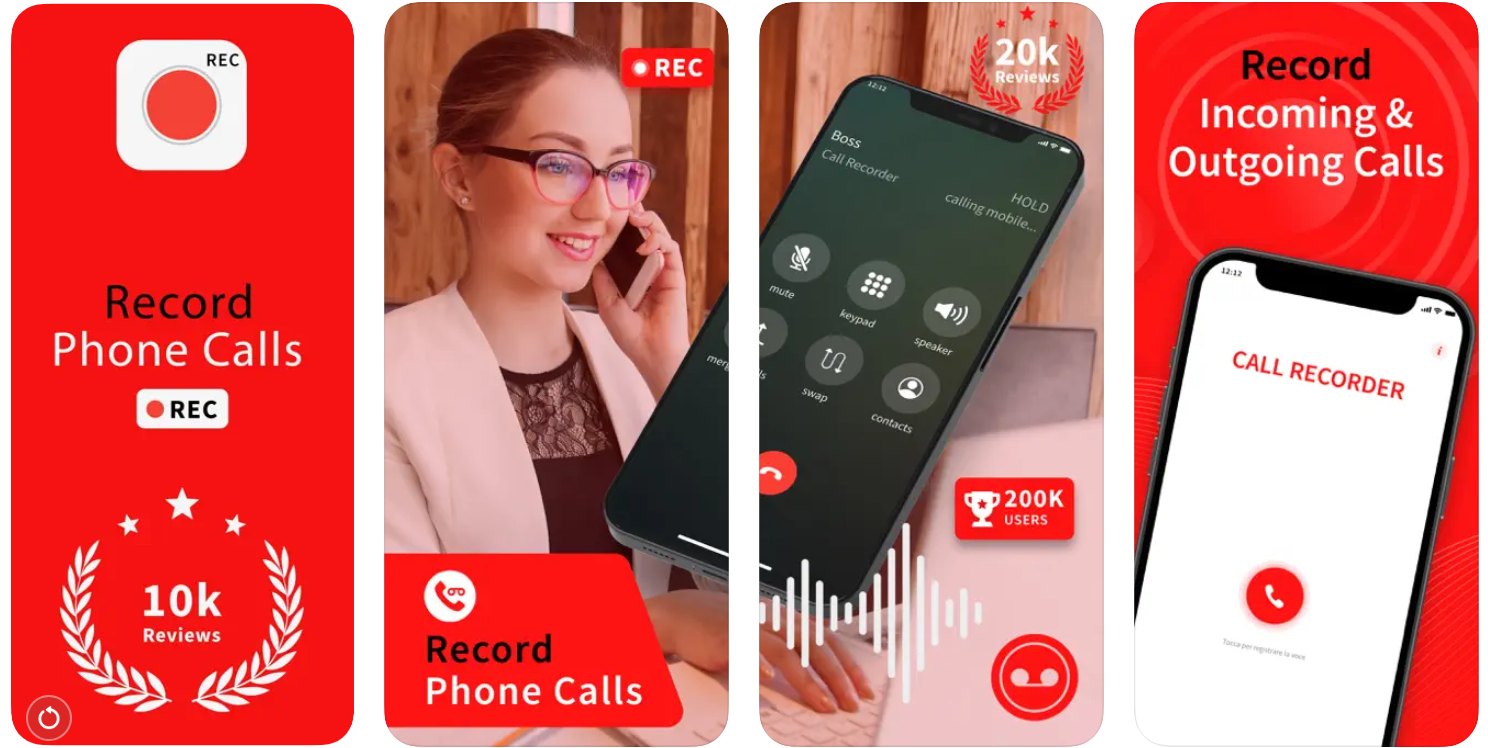 ACR is free and one of the most popular call recorders on the Play Store. With this application, you can easily record calls, save, search and manage your records on Android. You can select the location and format of the call records on your device. It makes a list of your records according to your contact list.
ACR is an adaptable call recorder with variable features. It provides easy recovery of deleted records from Recycle bin. You can navigate your voice tracks using your contact name, contact number, or note. Moreover, you can sync your call tracks with cloud storage through the cloud storage service in the paid version.
3. Tape A Call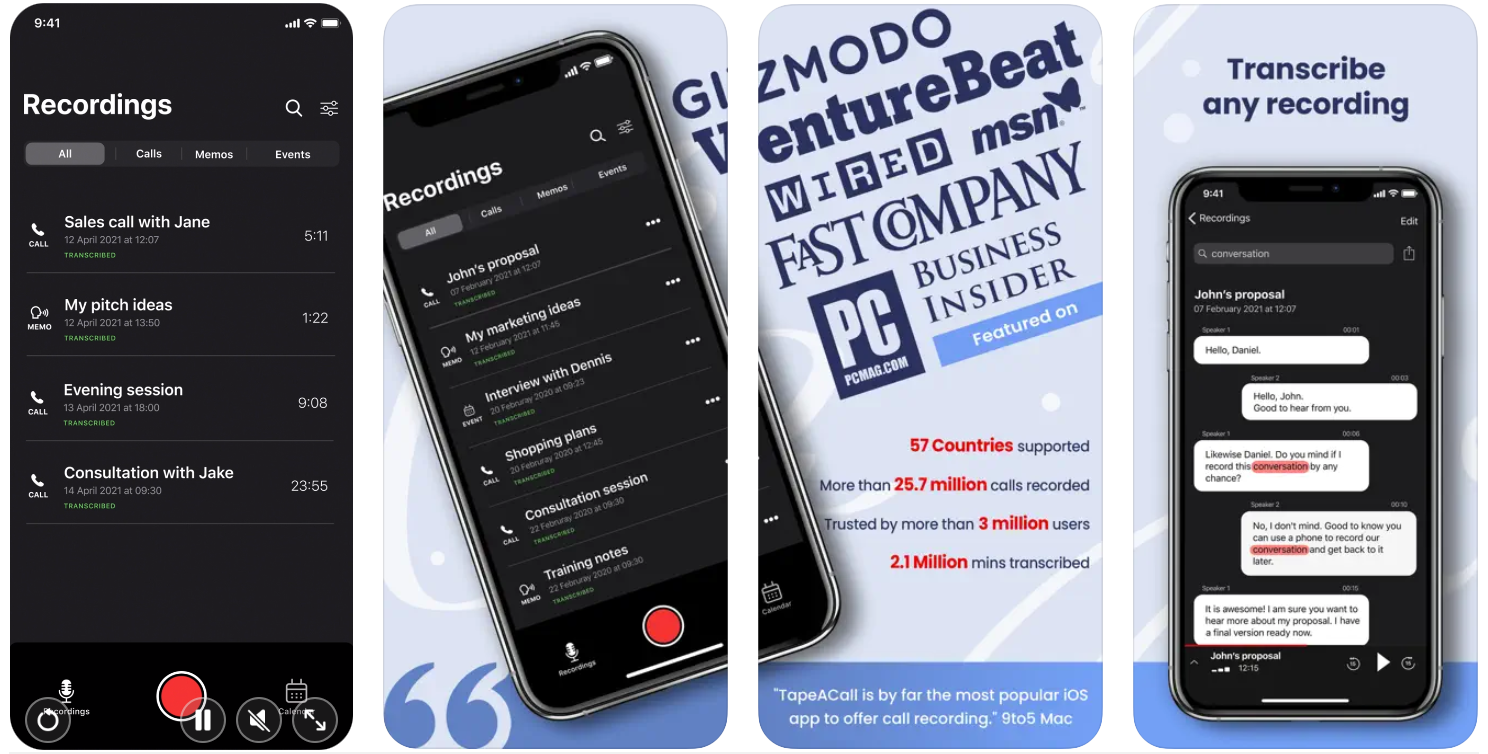 Record all your inbound and outbound calls quickly and efficiently with a TapeACall recorder. TapeACall is an active app that always contains the latest features. It is a dynamic option for professionals to record unlimited calls efficiently. You are free to save and interpret voice records into text. Additionally, you can upload voice tracks on cloud storage and share them easily on social apps.
TapeACall has a simple interface that automatically saves the recording after you hang up. It also permits the labeling of voice tracks according to your choice. You can play voice tapes in the background and perform multiple tasks simultaneously.
4. Rec My Calls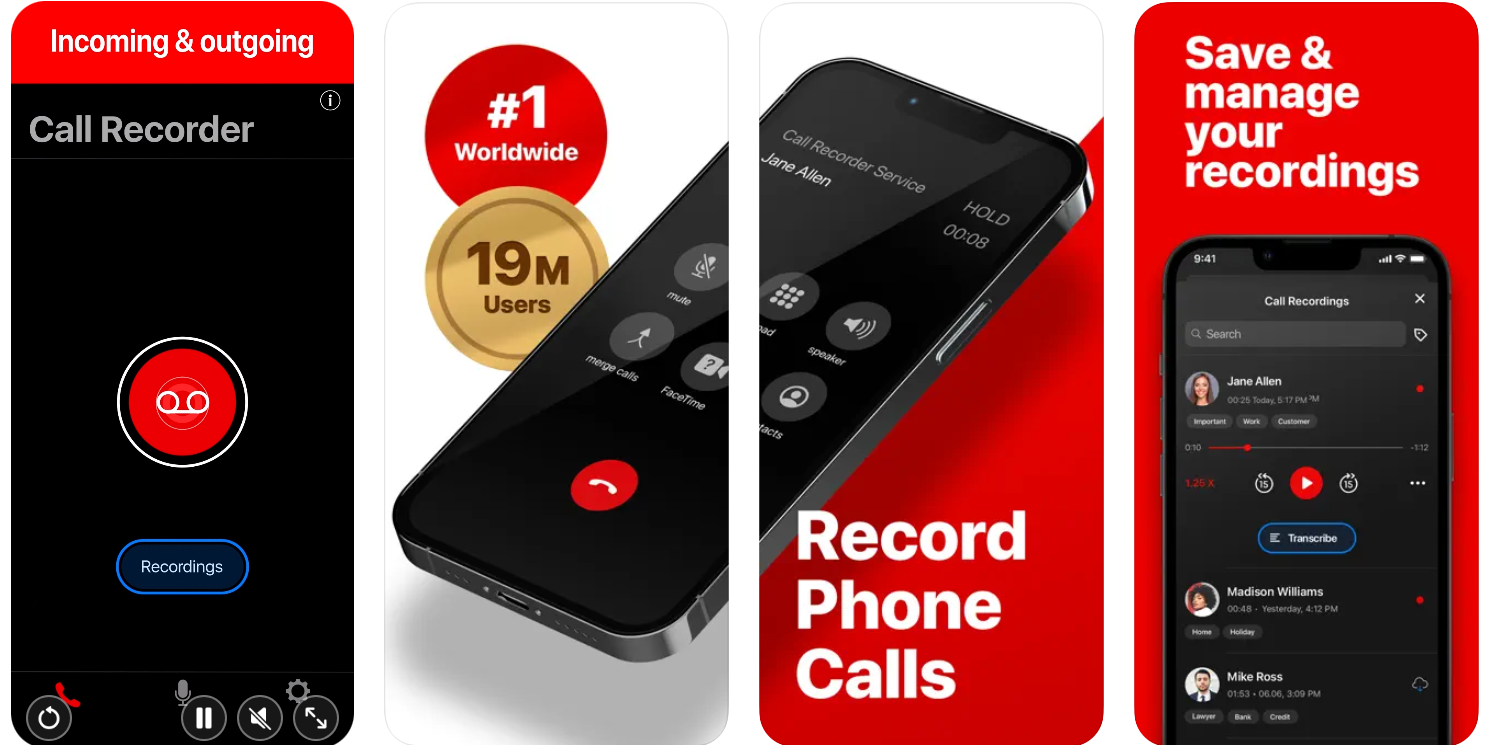 Rec My Calls is a crucial call recorder for iPhone that records your calls with a few clicks. It provides you with clear and good-quality recordings from both conversation sides. Also, you can transcribe your voice tracks to text. This app records phone calls made within the app.
Rec My Calls recorder involves a conference call system to record all calls. Moreover, it is convenient to keep and manage a record of your voice recordings. You can have easy access to recordings as soon as you disconnect the call. Like many other call recorders, you can share and export voice recordings through RecMyCall.
FAQs
1. Is call recording legal in different countries?
Knowing and understanding the call recording laws of the country you live in is important. A general rule is to obtain permission from the callers before recording a call, even if there is no law to obligate you. However, some countries allow secret call records for criminal investigations and other such conditions.
Here are a few conditions where call recording is usually legal— but you must check your country's rules—;
• To protect and justify a person's interest in dealings
• Recorded evidence for business transactions
• To improve customer service and support
2. How do I record phone calls on my phone without an app?
Many Android devices have erased the built-in call recording feature due to Google's restrictions. Likewise, iPhone doesn't allows call recording by default due to a strict privacy policy. You need to use some other ways, like installing a third-party app to tape calls on your mobile phones.
This is how you can record phone calls on your Android device using a native option— depends on the availability of the function.
• Start a call using the native Phone option or receive calls.
• Tap the Record icon to start recording. The button will show the recording in progress and the record duration.
• Once you've completed it, click Record again to stop or hang up the call. It will automatically save the recording to your device's storage.
3. What call-recording apps work on the Android system?
Various call-recording apps work on Android devices. Here are some top-ranked options you can try:
• REKK Call Recorder
• Cube ACR
• Voice Recorder Pro
4. What call-recording apps work on the iPhone?
Here is our list of the best call recorders available for iPhone.
• REKK Call Recorder
• Call Recorder iCall
• Call Recorder - IntCall
• Rev Call Recorder
• RecMyCalls
5. How do you Record Phone Calls using Applications?
It is super easy to record calls using any call recording app mentioned above. Let's take REKK Call Recorder as an example.
Steps to record an Incoming call
• Pick up the call and minimize the screen.
• Open the REKK Call Recorder app and click the available big round button to start recording.
• Return to the call screen and hit "Merge calls." The app has started recording your call.
Steps to record an Outgoing call
• Open the app, dial the number, select it from the contacts list and tap the "Call" button. The app will connect the service number first.
• The service number notification will appear on the screen. Hit "Call."
• Wait for the service number to accept the call, and you will get a notification with the number you want to call.
• Click "Call" again and tap "Merge calls" as soon as the call is accepted.
The Bottom Line
Call Recording can be your savior in uncertain situations that might happen in the future. However, the responsibility to record calls in secret from the interlocutor can't be ignored. We have reviewed all the essential characteristics a call recorder should have. Investing in a versatile call recorder can give clear and efficient recordings.