Top 10 Apps to Make Your Sales Task Easier
Smartphone apps for business growth have become more prevalent in this digital era. People prefer to use these apps instead of PC programs for their sales tasks. Mobile apps are convenient to use and provide easy communication with customers. Moreover, they allow you to access useful features like a phone's contact list, GPS, camera, and more.
Smartphone apps can increase sales and generate revenue in many different ways. Your customers can easily view and buy your range of products and services. Also, you can offer special discounts to attract new customers. Moreover, you can effectively monitor the buying behaviour of your potential customers. These mobile apps can benefit business owners, freelancers, and sales teams.
This article elaborates on the 10 best apps you should try to ease your task in the sales field.
1. CloudShop
CloudShop is a store inventory management app that offers mobile trading. Thousands of businesses in 28 countries use CloudShop for their store management. It helps boost your sales while saving you valuable time. Store automation is now very easy for business owners.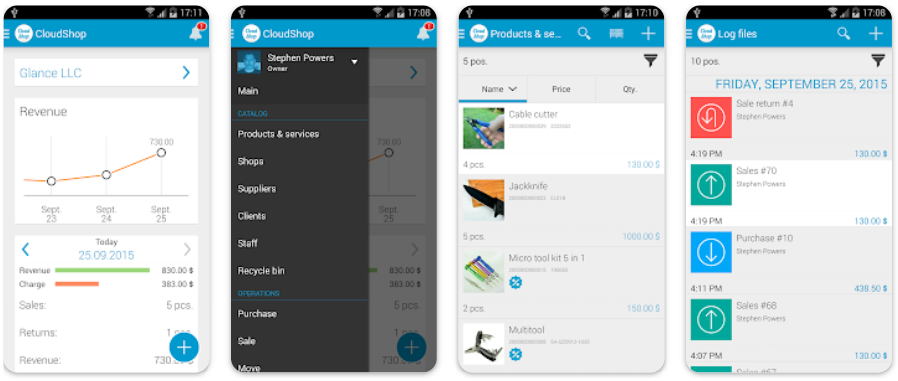 Key Features
• Manage customers with a complete record of sales and purchases
• Customer account tracking and inventory management
• Real-time detailed reports and summaries about every transaction and overall business performance.
• Transparent warehouse logistics with warnings about expensive items.
Interface Languages
English, Russian
Operating system
Android, iOS
2. Payeer
Payeer brings all your cryptocurrency wallets into a single mobile app. You can now store and trade your BTC, LTC, ETH, BCH, USD, and EUR, using your multicurrency Payeer wallet. Exchange various cryptocurrencies or convert them automatically on different marketplaces worldwide.

Key Features
• Exchange Cryptocurrencies on Trade Platforms or convert them automatically.
• Fund your account with VISA and MasterCard.
• Make payments worldwide between thousands of Payeer accounts in up to 127 countries.
Interface Languages
English, Russian
Operating system
Android, iOS
Another wonderful tool to track your important phone calls with clients is the REKK call recorder. Using this application you will not miss important details of your conversation and will be able to listen to the recording again at any time. The app includes not only call recording and transcription functions, but also the ability to block unwanted phone numbers and filter spam calls. However, a paid subscription is required for the app to work fully. Don't forget to enable three-way calling before getting started with REKK.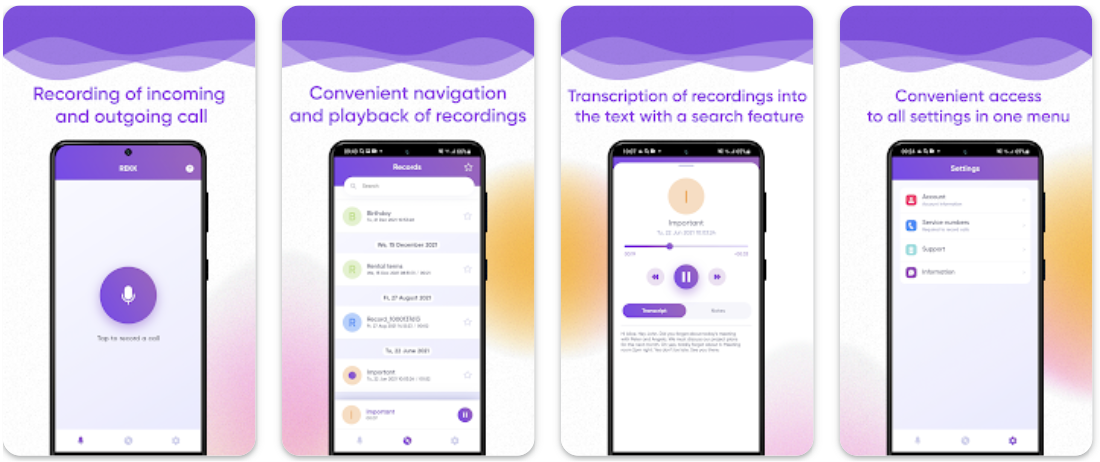 Key Features
• Record unlimited incoming and outgoing calls without any time limit.
• Generate a link to share the recorded file.
• Transcription of recordings into text and finding information with an intelligent search feature.
• Convenient access to all settings in one menu.
• Make notes under recordings and creates file backup.
• Ability to share call recordings on third-party applications like Viber, Whatsapp, and Messaging.
• Ability to upload recordings to cloud storage like Google Drive and Dropbox.
Interface Languages
English, Italian, Spanish, Portuguese, French, German & Russian
Operating system
Android, iOS
Download Link
4. Invoice Simple, Estimate Maker
Invoice Simple is the easiest invoicing software you've ever used. Business owners and contractors can easily create and manage invoices using this app. It helps you to stay organized, save time, and look more professional. You can create professional invoices immediately using your mobile app. Whether you are with a customer, on the job, or staying at home, creating and converting estimates to invoices is not a problem.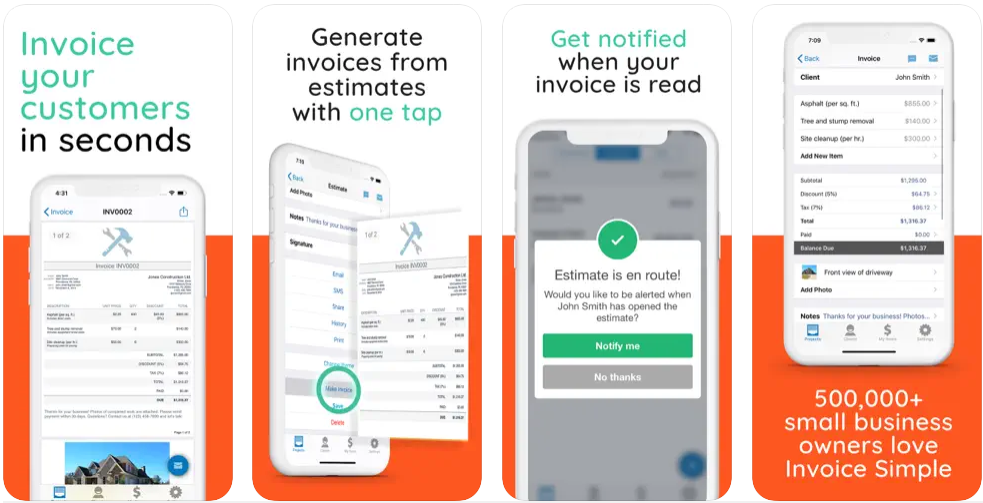 Key Features
• Professional invoice templates you can customise and print.
• Receipt templates to get your receipt ready instantly.
• Create professional estimates and convert them into invoices.
• Email or text your invoices and get notified when payments are ready.
Interface Languages
It supports more than 22 languages
Operating system
Android, iOS
5. Microsoft PowerPoint
Developing business presentations and sales reports are usually time-consuming and expensive. However, Microsoft Powerpoint offers the easiest way to input content for creating professional sales presentations. It allows you to create customized sales presentations faster than ever. You can create high-quality sales reports using MS PowerPoint and use them in business presentations.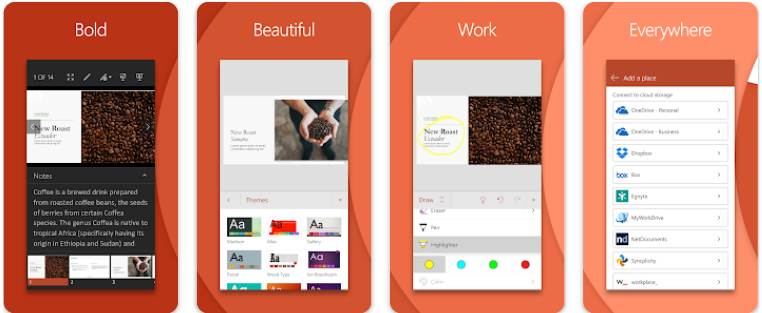 Key Features
• Create professional, visually appealing presentations without a third-party designer.
• Wonderful design ideas for creating slides.
• Attractively engage customers to discover their interests.
• Use existing content rather than starting from scratch.
Interface Languages
It supports more than 22 languages
Operating system
Android, iOS
6. Microsoft Remote Desktop
Microsoft Remote Desktop allows you to work from anywhere. Connecting through a Remote Desktop Gateway, the app can access multiple remote PCs and Windows servers worldwide.

Key Features
• Supports audio and video streaming.
• Redirect your clipboard and local devices like the camera and mic.
• 100% safe connection to your applications and data.
• Manage your user account and connections from the Connection Center.
Interface Languages
Available in 16 languages
Operating system
Android, iOS
7. iRec
If you want to save your precious time on ideas, try using iRec. It is a one-click idea recorder to enhance your productivity. The app allows you to save your ideas effectively with a single click. When you open iRec, you'll see a big button to start recording. Pressing the button will start the recording instantly, and letting go will end it automatically.
Key Features
• Hold Mode makes the recording possible in one click.
• The app records voice notes extremely fast.
• Send voice messages to yourself to plan your schedule.
• Capture your thoughts and ideas for detailed analysis afterward.
• Instead of writing, use it as a diary to record your thoughts.
• There is no limit, and you can record unlimited calls.
• One can do international calls at a very cheap rate.
Interface Languages
English
Operating system
iOS
8. Google Drive
Being a part of Google Workspace, Google Drive is the best file-sharing app for sales teams. Creating, organizing, and collaborating on documents with Google Drive is easy. Whether it's a word document, spreadsheet, or presentation, your sales team can work on it together. They have all of the essential information gathered in the same safe place.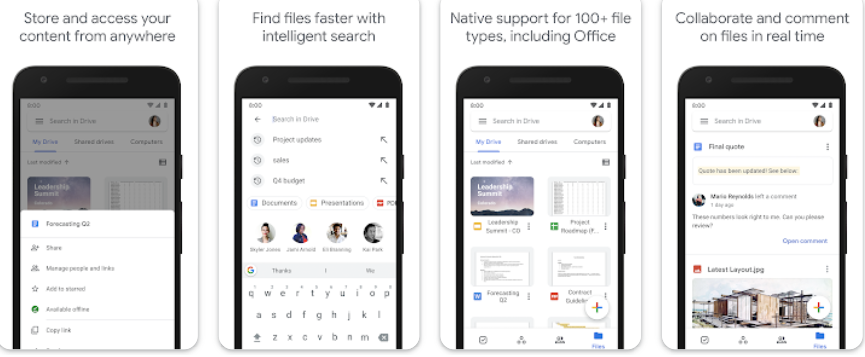 Key Features
• 15 GB of free storage available for one Google account.
• Safely store and open your files from any of your devices.
• Search for files by name and content, and quickly access recent and essential files.
• Set permissions for your files while sharing to maintain privacy and view your data offline.
• Receive notifications about any significant activity on your files.
• Use your device's camera to scan your sales invoices and other paper documents.
• Create a shared drive to store your sales team's content.
Interface Languages
It supports more than 66 languages
Operating system
Android, iOS
9. Cloud Print
Using Google Cloud Print on your phone can do wonders. It can handle your job prints from an iDevice. This app can access and print your desired content from anywhere, anytime. Isn't it wonderful?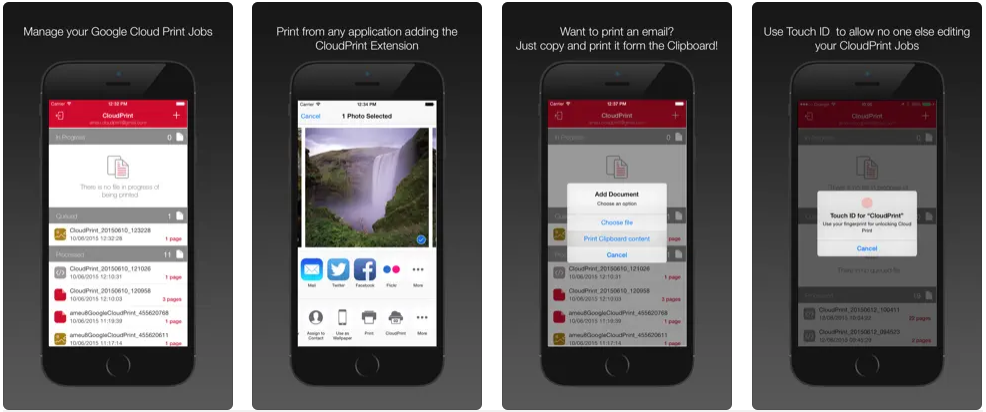 Key Features
• Allows printing from other apps such as photos, Dropbox, etc.
• Select files from cloud storage like iCloud Drive, Google Drive, Dropbox, and your other installed apps with the Document Provider extension.
• Capable of printing your clipboard content
• Print your email attachments directly from the email app.
• Print images, word docs, excel sheets, PowerPoint slides, pdfs, web pages, and much more.
Interface Languages
English, Spanish
Operating system
iOS
10. Skype
Skype is the most popular app for video and voice calls worldwide. The sales team can effectively use Skype for internal communication. Also, they can call and interact with clients worldwide using Skype. No matter what device you have, Skype is compatible with all your devices.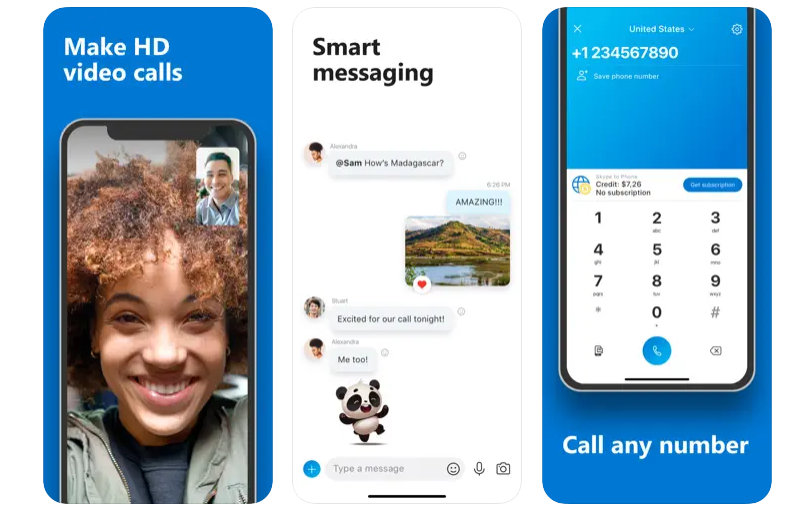 Key Features
• Share your location to find desired places near you or to notify others.
• System Alert Window allows Skype screen sharing for an advanced experience.
• Share your screen to make travel plans or present designs to your sales team.
• Make voice calls to anyone and call mobile and landlines at low rates.
• Get together with one to 49 of your teammates and clients on an HD video call and watch everyone's expressions.
• Use emoticons, stickers, and images from your device or the web.
• Send messages to mobile networks worldwide.
• Chat with others or create a group chat and grab others' attention with mentions.
• Send photos and videos and save shared photos and videos to your camera roll.
Interface Languages
Supports more than 41 languages
Operating system
iOS, Android
В заключение
Достижение целей в области продаж всегда является сложной задачей из-за высокой конкуренции. Вы должны быть знакомы с последними тенденциями и возможностями, чтобы увеличить свой рост. Мы рассмотрели несколько лучших приложений, которые могут вам пригодиться. Вести учет клиентов и продаж на своем смартфоне невероятно полезно.
Большинство из вышеперечисленных приложений бесплатны в использовании, а некоторые предлагают бесплатную пробную версию. Использование этих простых приложений поможет вам сэкономить время и деньги. Изучите полезные опции и используйте их по максимуму, чтобы повысить свою продуктивность в продажах.
Per concludere
Il raggiungimento degli obiettivi di vendita è sempre una sfida a causa della forte concorrenza. Dovete conoscere le tendenze e i trucchi più recenti per incrementare la vostra crescita. Abbiamo recensito le 10 migliori app per facilitare le vostre attività di vendita. Tenere un registro dei clienti e delle vendite sul vostro smartphone è incredibilmente utile.
La maggior parte delle app citate sono gratuite, mentre altre offrono una prova gratuita. L'uso di queste semplici app può farvi risparmiare tempo e denaro e darvi soddisfazione e successo. Esplorate le preziose funzioni di queste semplici app e sfruttatele al meglio per migliorare la vostra produttività nelle vendite. Iniziamo!